And 2016 begins! Happy New Years!
January 1, 2016
So begins the new year, and we welcome 2016 with another blog post! Since our last post, work has been carried out on the world map, some really awesome tracks on the later levels have been made and fine tuning some of the game's glitches. Today we'll continue to look on the world map of Brock Crocodile.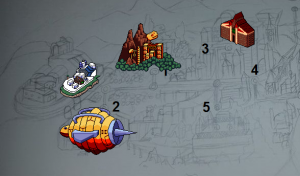 So far I've designed two more icons on the world map, one for Beehive Battleship and one for Museum Mayhem. Beehive Battleship actually had a different map icon (see below) but after seeing the original's finished design, a very generic airplane that only had some black strips to indicate it was related to a bee I decided to scrap the design. Its funny how the answer was looking straight at me, I wanted something to look like a hive and yet didn't take inspiration from an actual hive design, so I based the final aircraft design with a cross between a ship, a beehive and a bee's face and stinger. Unfortunately the museum didn't need as quite elaborate design and stuck with a good old fashion building.

To bee or not, to bee.
I get the feeling they'll be a bit more cut content (Infact might make it a blog post about it in future!) from now till the completion of the game. Now comes the slightly trickier part of populating the map with buildings but that'll be in the next update. That wraps up this blog post but keep coming back for more information on Brock Crocodile and finally we'd like to wish everyone a great 2016, let the good times roll!