Old level, new look! Twinkle Twinkle in Snowy Twilight!
September 11, 2016
Good afternoon everyone! Hope you're enjoying this fine Sunday afternoon in London, in today's update we'll be showing you the eighth level for Brock Crocodile, Snowy Twilight. Like a few levels in Brock, Snowy Twilight started life in the pre-Mega Drive aesthetics days when the platformer was originally aiming to be more of a homage to Master System games so the colour palette was a lot more restrictive compared to what it was.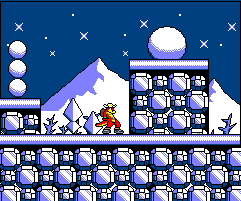 I've always enjoyed ice levels in games, their twinkling music and often just ooze happiness and excitement, like a kid waiting to unwrap her Christmas present. I'm hoping to ensure Snowy Twilight isn't any different! However as it's one of the last few levels in the game it'll come with it's own unique challenge, but today is not for game design but the work put into the level's art direction!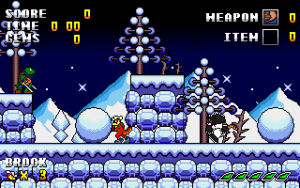 If you were checking our Twitter feed last night you might have seen a WIP of the above screenshot last night. Safe to say the change in palette has helped massively bring the level more to life. There's still a lot more work to do however! The background for example clashes with some of the baddies and the abundance of white might not be such a good idea, but we'll continue working on this level to make show player's can enjoy it to it's full potential!
That concludes this update, unfortunately this is the last regular update people can enjoy for the next couple of weeks as I am literally leaving to board a flight to Tokyo to enjoy the Tokyo Game Show but should be back with regular updates from the 26th September onwards! If you're an indie dev yourself and will be at TGS, drop me a line on our Twitter, until then, ta all and have a great couple of weeks!
(Check back on https://twitter.com/brockcrocodile for some snazzy pics of the development team of Brock adventuring through Japan!)