Piercing through the heavens, a new member joins the team!
January 23, 2018
Welcome to another update, as we approach the end of January we've got some cool news to share with you, a new artist has joined our team, Miles! If you've been paying attention to our Twitter account you'll have noticed a few new pieces of sprite work and a cutie Saturday piece (Which you can view below) all works he has made!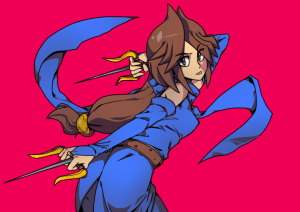 Miles is a talented artist and grew up on classic platformers (but quote "wasn't particularly good at them") who regularly posts art on his twitter account which you can find here (HERE), currently he is partaking in a daily art project called Sonic365 and is also producing and writing his own web comic called Mahou Shoujou P.D, a story about a police department that employs magical powers in solving crime where the first issue can be read (HERE). It's not just games that influenced him, with famous Japanese artists such as Yoh Yoshinari, Shirow Miwa and Toru Nakayama.
You'll be seeing a few more art pieces coming from us, both pixel and illustrations, as we look to show the mood for the game. Hope you enjoyed this update and see you guys and gals next week!