Time to beehive, the Queen has arrived!
February 5, 2018
Hello all, another update on the project for you all, this time we'll be covering some of the art we've produced over the past few days. First up and incase you missed it, we had another image up in place of our usual Screenshot Saturday, this time focusing on Brock and Xia-Yee.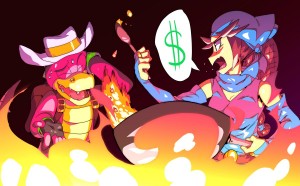 Those with longer memories might remember a certain screenshot we released a while back that had Xia-Yee kicking Brock to the ground, well this image is suppose to further show the relationship between the two. Despite being a very honourable crocodile (Despite the false accusations from our artist!) Brock has found himself racking up a tab and requires a lengthy period to pay back Xia-Yee what she's due, pay the cash or don't expect any food items from her!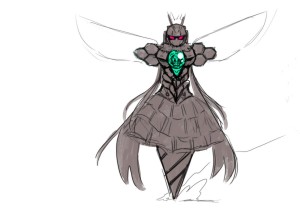 Now this is something that will be used in game. You might remember the original boss battle for the second level (That I happened to do some commentary on!) well with a revamped stage there too must come a revamped boss! Presenting Beera, Princess Cassandra's personal mecha and housing the AI for the beehive within it too. We're working on a new sprite for the boss and hopefully I'll be able to share more information for this boss in the coming weeks!
Right that's this update done, once again it's been a privileged writing and hopefully you're back next week for another update, till then!