Red hot Crocodile coming through with a playable build!
May 16, 2018
In case you missed it, we showed off what the finished invincibilty flame looks like and how it functions in the game. In case you missed tweet this Saturday, we've uploaded it onto our youtube channel which you can see above as well as give a listen to the invincibility theme. It's funny for me looking back at what this powerup looks like now, prior to our newest team member joining up, what I had in place was a very make shift invincibility; Brock would be circled around by flaming spikes (If you want to check what it looks like, you can see it here for a couple of seconds) and whilst they did get the job done, I think you can agree they don't look as good as what we've come up here! And just for your viewing pleasure, have a look at the seperate animations below!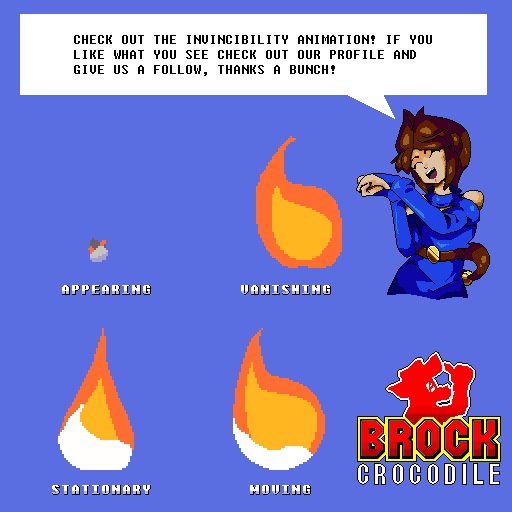 Right that's this development update for you, another bit of news that I'll be sharing with you is that we'll have a playable build of Brock Crocodile ready for PlugNPlay UK that'll be hosted in London on 21 July 2018 so if you've got time, why not book a ticket and pay us a visit. Myself the director and our artist will be attending the event, so if you've got any dying questions for us you know where to find us!
That's it for us today, next time I give you a update I'll be hoping to share with you how work on our hub town is coming along. Until next time folks, see ya!