Brock Crocodile has been Greenlit!
May 28, 2015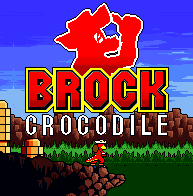 It's been just over a month since our last blog post so it probably makes sense to make a major announcement. Well today thanks to the support of everyone, I am very happy to announce that Brock Crocodile has been officially
greenlit
! It goes without saying but a big thank you to all who voted Brock Crocodile on Steam and we hope we can deliver the type of experience everyone who showed an interest in the project is expecting.
We've come a long way from when the project started actual development, infact if you want to take a trip down memory and reminisce about our first blog post or read up on the development history you can do so on the respective links. From now to the release of the full game, we'll try to keep you a bit more in the loop of what we've been working on. Although there hasn't been many updates, behind the scenes there has been plenty of work carried out, from new music tracks, level adjustments and sprites. I'll also be trying my hardest to get a demo available for people to try.
On a final note I cannot say thank you enough to everyone who has supported us through our Greenlit campaign, I'm honestly grateful for all the support shown, me and the team hope we can retain the favour by releasing a game that meets everyone's standards!
Be sure to follow us on Steam, Twitter or Facebook for all up and coming updates!